Evolution of the Technology
For those of us old enough to remember the early days of video games, the past 3 decades or so have been a mind-blowing evolution. I remember vividly the first Pong console I was able to use, and the fun I had playing a game that was nothing more than a few lines and a moving "ball", which was unusually square.
The industry took a massive leap forward when Atari unveiled the 2600, and color, variety of game plots, and the joystick were added to the mix. I can recall dashing through Kmart as the doors opened (with my mother's blessing), trying to get to the electronics department to lay my hands on one of the prized consoles, which was on sale for the unbelievable $100 (I also remember a grown woman snatching the first one I had out of my hands. The mayhem predates the Wii mania.). Fast-forward through the glory days of the video arcade, systems such as the Mattell Intellivision, ColecoVision, and the amazing Nintendo NES. Today, games are played on powerful systems, such as the Sony PS/3, Ninteno Wii, or X-Box 360, whose internal memory, processing power, and graphics capabilities are exponentially greater than even our old computers posessed (Truthfully, our phones are more powerful.)
Today's games are colorful, with rich, 3-dimensional graphics, spectacular settings, complex characters, and intriguing plots. Participants interact with characters and other players to solve problems, plan strategies, and defeat adversaries. While the levels of violence are certainly a cause for concern in some instances, the degree of cognitive (and even physical, in the case of the Wii) complexity place demands upon players that we never dreamed about as we sent that pixelated ball bouncing back at our opponent.
Little surprise, then, that students both enjoy playing educational video games while simultaneouly being bored by their lack of sophistication. A student who is immersed in a realistic, massively multi-player online role-playing game (MMORPG) is likely to be less than impressed by the 2-dimension quality and simplistic plotlines of most of the educational games that exist. While some improvements are slowly arising in this domain, most are either still too simplistic or are priced beyond what is practical in today's economic climate.
Characteristics of 3D Learning Enviroments
However, it is possible for the educator to find some very intriguing and powerful tools that have real, educational value, make effective use of technological advancements, and are reflective enough of the qualities of popular games as to make them appealing to students. Tasks are challenging and open-ended, with opportunities for exploration and multiple solutions. Alessi and Trollip categorize such games as "open-ended learning environments." (Alessi, 2001, p.320) Many of these are reflective of the qualities of learning valued by constructivist educators, such as problem-solving, reflection, collaboration, testing and revision, etc. (Alessi, p.320) Students are afforded opportunities to create highly personalized characters, interact via the Web with other participants, and use cross-curricular skills to address meaningful problems and issues. Karl Kapp (2009) identifies several advantages to the use of such learning environments:
Learners can "explore places he or she could not visit in the physical world." From the microscopic world of cellular structure to the vastness of outer space, students can virtually go where physically impossible.
Learning in these environments can increasingly replicate real-world situations, events, tasks, and objects that might be unaccessible otherwise.
Learning in 3D environments involves a greater breadth of cognitive processes, such as visual, auditory, tactile, emotional, etc., resulting in improved learning and retention over simply reading a text or listening to a lecture.
3D learning environments allow multiple users to share the experience simultaneously, interacting, communicating, collaborating, and reflecting together, improving learning.
Examples
As stated, the variety of such quality, 3D learning environments is limited at this point. However, there are some exciting tools already available. Quest Atlantis is an example. Developed by the University of Indiana, Quest Atlantis immerses participants in a fascinating, colorful, virtual world, with the setting being the mythical culture of Atlantis. Participants are tasked with solving problems that are all focused on saving the dying civilization, and incorporate skills applicable in the sciences, social studies, language arts, math, and more. Specific tasks can be selected by teachers or by students. The game allows interaction with other participants from countries around the globe, offering opportunities for developing cultural awareness, as well.
Another example is The River City Project, created by the National Science Foundation, the Smithsonian's Museum of American History, Arizona State University, and Harvard University. In The River City Project, participants find themselves in a fictional, historical town of River City. They discover that the town has serious health problems, and they are tasked with trying to find solutions to the town's problems using modern scientific knowledge and practices. Students conduct research, collect data, and formulate and test hypotheses as they work to help the city. As with Quest Atlantis, the graphics are spectacular, tasks are meaningful and relevant to real-world situations, and the student must interact with a range of characters and other users. There are also numerous historical photographs and opportunities to learn about early researchers in the field.
A much more open-ended example of a 3D learning environment is Teen Second Life. While many educators have become familiar with its adult parent, less attention has been paid to the possibilities of this tool,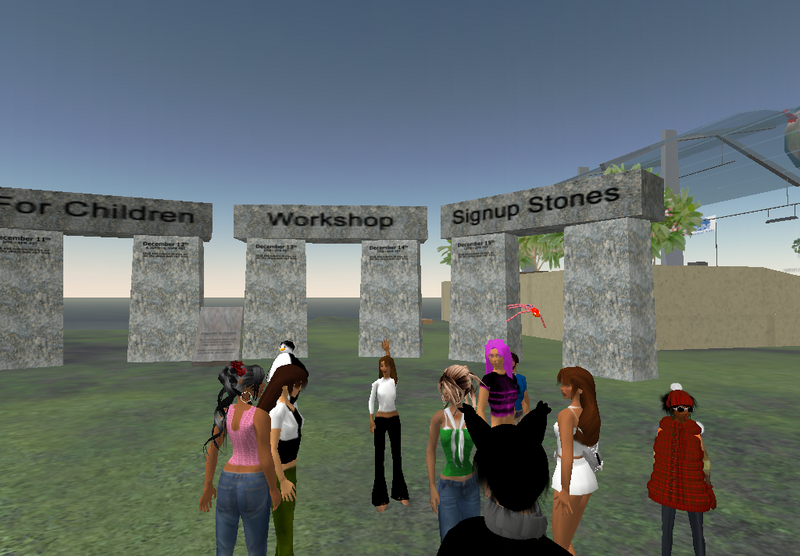 focused on adolescents. Teen Second Life is very similar to Second Life, and users can create imaginative personal avatars, build virtual environments, tools, works of arts, clothing, etc., and interact with users from around the globe. Unlike Second Life, however, participation is both monitored and restricted to teens (and approved adults), with the goal of preventing much of the inappropriate content and interactions that occur in the adult version. As opposed to Quest Atlantis and The River City Project, there is no pre-determined goal for Teen Second Life. This opens up the possibilities for a wide range of applications. Already, students are using TSL for creative applications, such as graphic design, virtual architecture, and fashion design, for creating spaces to meet with other students to study and work on projects, for social activism, and more. Teachers are using TSL to present workshops, interact with students outside the school day, provide guidance on student projects, etc.
3D virtual worlds are exciting for multiple reasons. First of all, they are engaging, far beyond the levels of most educational gaming software. Secondly, they go beyond the basics of curriculum to the development of meaningful 21st century skills that our students will need for future success in school and in life. Additionally, the open nature of tools such as Teen Second Life affords application in a variety of ways across the currilum. Finally, they are exciting because we are just seeing the tip of the proverbial iceberg with regard to their development, and the power and applications possible is constantly improving. For these reasons, they deserve greater attention by educators. If interested in learning more, Thinkquest offers a good overview, as does the Horizon Project.
References:
Alessi, S.M., & Trollip, S.R. (2001). Multimedia for Learning: Methods and Development. Boston: Allyn and Bacon.